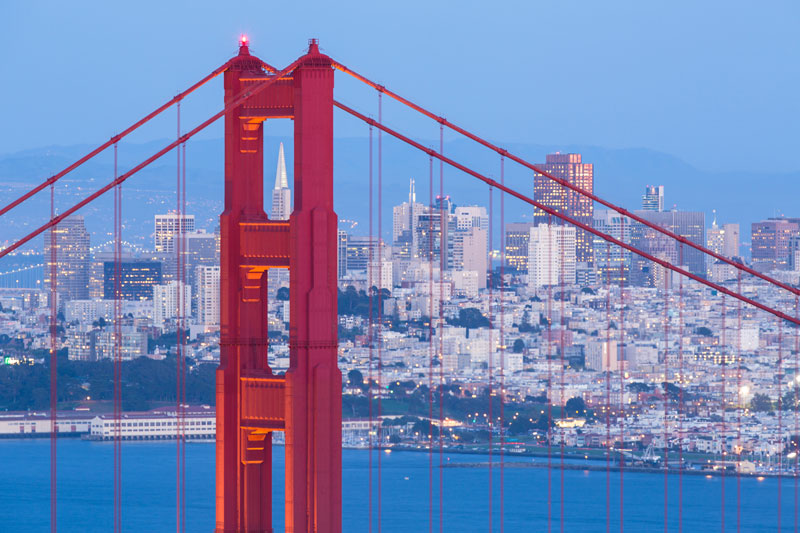 Silicon Valley is synonymous with success. From startups to multi-million dollar companies, numerous enterprises have chosen to establish a presence here. So, the question is, should you move to the tech capital of the world? Whether you're an entrepreneur, a career professional, or a recent graduate, there are a few considerations to unpack if you're thinking about buying a condo in Silicon Valley. Get to know just what you're getting into with the information below.
Silicon Valley real estate overview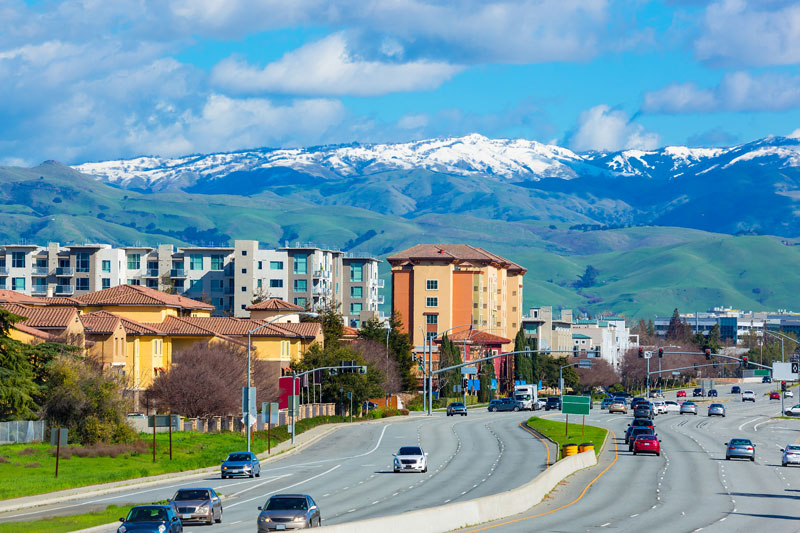 A Silicon Valley street in San Jose, CA
Silicon Valley lies in the southern portion of the Bay Area, in Northern California. Spanning about 1,850 square miles, it is about an hour's drive south from San Francisco, and has been the hub of modern technology since the 1970s, when computer chip manufacturing exploded in the area (silicon is a key component of computer chips, hence the name). So if you decide to move here, expect to have plenty of tech millennial neighbors.
Median price of Silicon Valley condos Due to its reputation as THE tech capital, condos in Silicon Valley are on the pricier side. Recent real estate market news reported that the median price of homes in the area increased by 12% in March 2022 compared to the previous year, from $735,000 to $825,000. As for rentals, a studio/one-bedroom condo generally fetches $2,300 a month, while a two-bedroom typically goes for $2,900. Condo owners often require potential tenants to provide proof of income that's thrice the amount of the rental rate, so if you plan on renting a $3,000-a-month condo, you should at least earn $9,000 in a month.
Cost of living Silicon Valley hosts some of the wealthiest residents in the country, with average annual earnings reaching $170,000, or more than double the national average of $70,000. That doesn't even account for the highest income earners. The annual median income for households has a similar trend – $138,000 for the Valley and $67,000 for the rest of the country.
Lifestyle As a family-friendly locale, Silicon Valley has a lot to offer new residents with children. Aside from a good number of excellent schools, there are also plenty of fun places for kids in the area, including Rockin' Jump trampoline park, Happy Hollow Park & Zoo, Monterey Bay Aquarium, and Children's Discovery Museum, to name a few. For singles moving to Silicon Valley, there are plenty of Meetup groups to choose from, offering opportunities to get to know like-minded people living here who share your passions and interests. Some of the more popular Meetup groups that operate in Silicon Valley are 106 Miles, Lean Startup Circle, and Silicon Valley Young Professionals. It's worth noting that generally speaking, the Valley provides modest opportunities when it comes to nightlife. The workaholic nature of residents means they are more likely to spend their off hours resting and relaxing than going on a night out. But party animals need not worry because San Jose has you covered. Some of the best night bars in the area include Bay 101, Britannia Arms, and LVL 44. While it is possible for you to relocate to Silicon Valley without a job, the high cost of living could be detrimental to the length of your stay. So it's a good idea to have a job waiting for you when you arrive. Aside from tech, other huge industries in the area include finance, law, healthcare, and education.
Pros and cons of living and working in Silicon Valley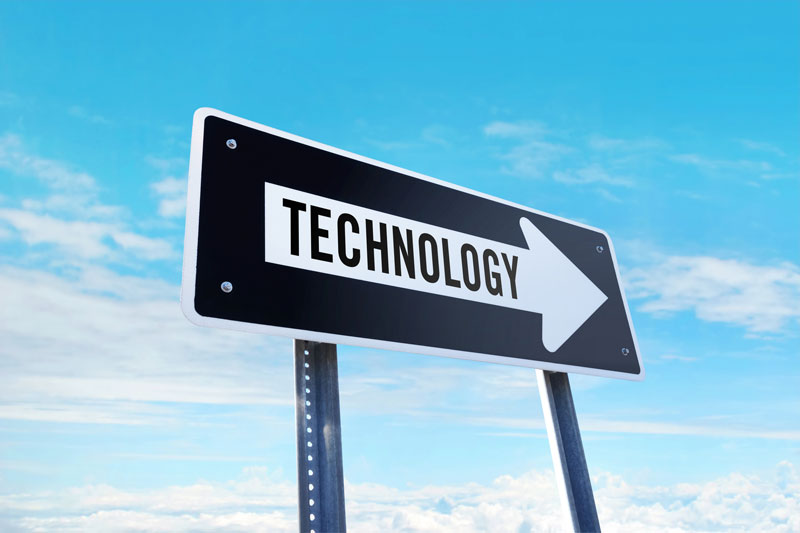 As one of the wealthiest locations in the US, Silicon Valley offers residents a surfeit of the finer things in life. But the downsides are cautionary. Check out these pros and cons to confirm if diving into the San Francisco condo market is indeed the right decision to make for your situation.
Pro 1: Some of the world's best employers are headquartered here
Apple, Google, Facebook, Netflix – these are just some of the noteworthy companies that call Silicon Valley home. While the location is largely known for tech multinationals, large conglomerates such as Chevron, Visa, and Wells Fargo also operate here. That's not even mentioning the 2,000-plus companies that do business in the area. For anyone looking for a job, there's plenty of opportunities to go around.
Pro 2: The locals are highly educated
Most residents have an educational background that goes beyond high school. You can also expect to live among those who value equality and diversity, and care about social issues. In the Silicon Valley workplace, expect to work with innovators, specialists, and top people in their respective fields. Thus, consider yourself lucky to be among the best and brightest talents in the world.
Pro 3: Easy access to practically everything
Anywhere in Silicon Valley is a prime location. Whether its goods, services, or information, everything is well within reach when you live here, so getting what you want is a breeze. And if something is not available locally, you can always purchase it online. The fact that you're working in a tech hub practically guarantees your orders will be shipped to you without a hitch.
Pro 4: Great year-round weather
With mostly sunny days, very little precipitation, and cool daytime temperatures that typically stay within 50 to 80 degrees Fahrenheit, pleasant weather awaits anyone who decides to call Silicon Valley their home. Should you find the need to explore, the area hosts all kinds of events and attractions including art (San Jose Museum), history (History San Jose), nature (Baylands Nature Preserve), recreation (California's Great America), and more.
Con 1: High cost of living
With median salaries in the high five digits, your chances of making money are pretty good when you join a Silicon Valley-based company. However, the cost of living is commensurate with your paycheck. Therefore, saving money is going to require proper budgeting and making sound financial decisions.
Con 2: The job market is crowded, competitive, and demanding
Silicon Valley companies have some of the best workplaces in the world, but that only means that companies expect employees to work harder than most. So be prepared for long hours if you want to impress higher-ups and climb the corporate ladder. And because Silicon Valley is home to some of the most coveted jobs in the market, you'll face tough competition from hyper qualified candidates not just in the US, but from all over the world. So, it's up to you to hurdle the first step of employment – proving that you're the best person for the job. When you're finally hired and have a taste of the company's culture, learn how to work smart. It's hard but nonetheless possible for you to strike the work-life balance that many Silicon Valley dwellers strive for.
Con 3: Commute can be tough
As a talent magnet, Silicon Valley has gotten a bit crowded, and this is obvious during the rush hours. Overcrowding and undersized freeways mean that traffic can get pretty congested. Although served by numerous bus routes, expect delays because of the traffic. So if you want to come in on time, you'll have to get used to waking up very, very early, or find a nearby condo that lets you walk or bike to your job.
Con 4: Lack of loyalty
People who work in Silicon Valley are out to make a name for themselves. This mentality means that employees don't normally develop a sense of loyalty to the company. People have no problem leaving their jobs the moment they find another one that rewards them better. Company loyalty is a rare commodity in the Valley.
Should you buy a Silicon Valley condo?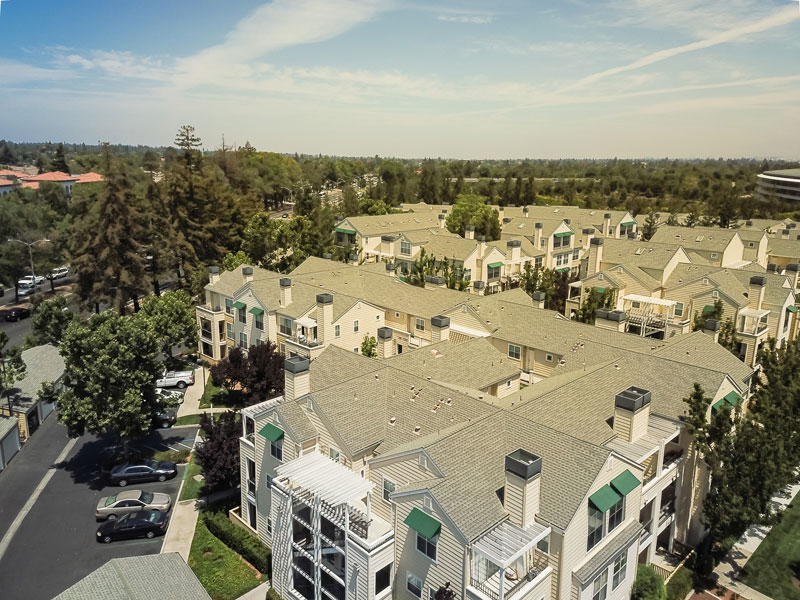 A condo complex in Cupertino, Silicon Valley
Where should you live in the Bay Area? A condo offers a world of advantages, but it's not for everyone. Here are five indications telling you that purchasing a unit in the San Francisco condo market is the right real estate move to make.
You are in a transition stage If you have been renting for years and want to transition to becoming a homeowner, a condo can be a good place to start your home buying journey. Typically more affordable than a single-family home, a condo can ease you into the world of property ownership.
You want to enjoy more amenities than your budget allows If you want a pool or a gym at home but your budget precludes the possibility, condos allow you access to such perks through their shared amenities While offerings can vary from one building to another, it is generally less expensive to have these amenities as part of your condo purchase than to finance them on your own.
You want better security Condo buildings are typically serviced by a private security guard company. Public or common areas are also monitored using surveillance cameras and other security systems. If you live alone or travel frequently, a condo may provide better protection for your belongings than a single-family home left empty.
You want to be close to where the action is Single-family homes are often located in suburban neighborhoods a good distance away from business districts. Condo buildings on the other hand, are built in the heart of urban centers. If you want to live in close proximity to work and entertainment, a condo will be the wiser choice.
Home maintenance just isn't your thing Owning a single-family home means you'll have sole responsibility for its upkeep. Tasks including mowing the lawn, power washing garages, replacing broken fixtures, sweeping walkways, and more come with homeownership. Whether you are unable to perform these tasks because of a busy schedule, or don't want to bother, living in a condo means that the homeowner's association will be taking care of these responsibilities for you. If these condo-buying signs apply to you, then it could be the right time to dive into the San Francisco condo market and ask yourself the questions that follow.
6 biggest questions when buying a condo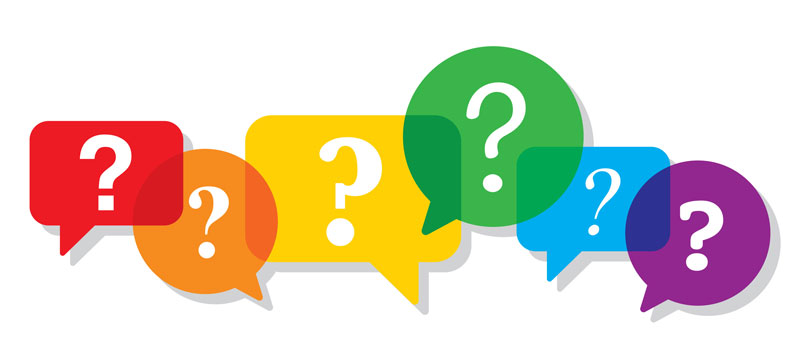 When you buy a unit in the San Francisco condo market, it's important to remember that you are buying something that's part of a whole. You will own the condo, but the rest of the development is in the charge of the homeowner's association. If you're sure that a condo deserves to be your next property investment, here are the questions to ask when shopping for the right condo unit to buy.
What does the condo include? If you own a car or plan to own one in the future, you'll want to make sure your condo includes a reserved parking spot. Do you own a lot of stuff? You may not be able to fit them all in your condo, so it can help if your purchase comes with additional storage. For those who adopt a healthy lifestyle, a condo building with an onsite gym, spa, and/or swimming pool will be beneficial.
How much are the association fees and when are they due? The association fees can help determine whether you can afford the condo or not. The fees can either be paid monthly, quarterly, bi-annually, or annually depending on the HOA. A well-organized condo HOA will have no problem providing their financial statements to a possible homeowner. Ask the community to share the breakdown of how the fees are spent.
What do the association fees cover? The basic inclusions of association fees are insurance, public area maintenance, plumbing repair, and garbage disposal. Any service that goes beyond these basics will likely add to the fees, so it is important to know if you can opt out from paying for amenities that you don't plan to use.
What are the association's rules? Different condos will have different rules and regulations to keep the community in order. For instance, many will restrict or completely ban any pets in the building. Some will not allow children of a certain age. If you plan to use your condo unit as a rental investment, you'll want to confirm that it's even possible and that your short-term tenants are aware of HOA rules before you hand them the keys. Rules are an integral part of condo living and you want to make sure you can meet them.
Who is the property manager? HOAs typically assign condo building maintenance to a third party provider, otherwise known as the property manager. This service provider plays a vital role in the success of a condo community, so it's important to know who they are and what their reputation is. If the property manager is known for providing poor service, let this information factor into your considerations prior to purchasing a condo unit in the building.
Do you have any special assessments in the works? A special assessment refers to a sizable improvement project that adds a certain fee to a condo owner's monthly dues. For instance, if the HOA wants to improve the lobby or the landscaping, it can require homeowners to pay an additional $100 for 12 months to fund the project. If a special assessment is in place, you might want to put off buying a condo until it expires to avoid paying for the added fee.
Financing your condo purchase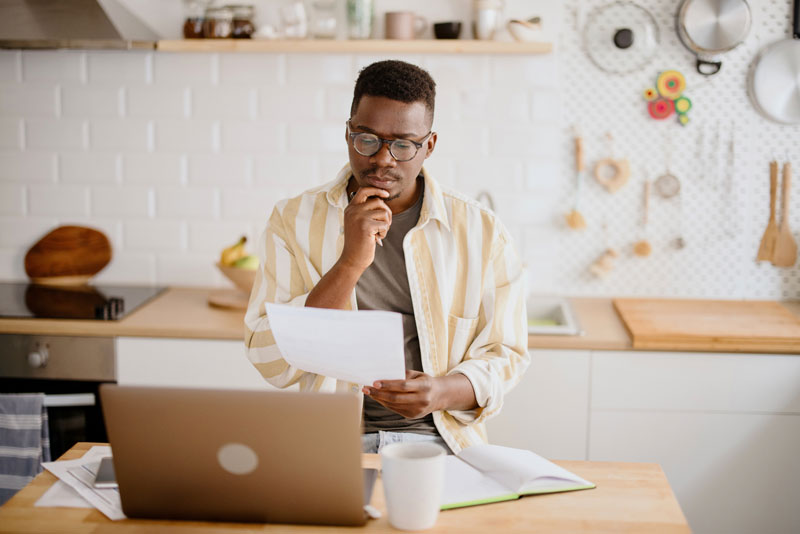 Just like financing a single-family home, it's important to get pre-approved so you can ensure that you have the ability to pay for your condo. However, the process of financing a condo is worlds apart from a single-family residence. For starters, many lenders do not allow condo purchases, so it can be more challenging to secure financing. The Federal Housing Administration (FHA) is one government agency that provides financing for condos, but you must first make sure that the association in charge of the building you intend to buy your condo in is on the FHA's approved community list. Condo financing from non-government or private lenders often comes at a higher cost, as most of these lenders require at least 20% down payment. So save up for the down to get yourself in a better position to buy.
Work with an experienced condo real estate agent
Financing is just one of the many aspects that single-family homes and condos differ. To navigate the San Francisco condo market successfully, you'll need to work with an
experienced real estate agent
who knows the ins and outs of the process. Such a real estate agent will help you understand association rules and regulations, or even negotiate on your behalf. With an agent providing you guidance, you can rest assured that no important step in the process will be overlooked.
A real estate agent with years of experience in the San Francisco condo market can help you make sound decisions regarding your planned purchase. When you're ready to learn more, get in touch with us, the Stephanie Martin Group. Call 408.828.6880 or contact us here.