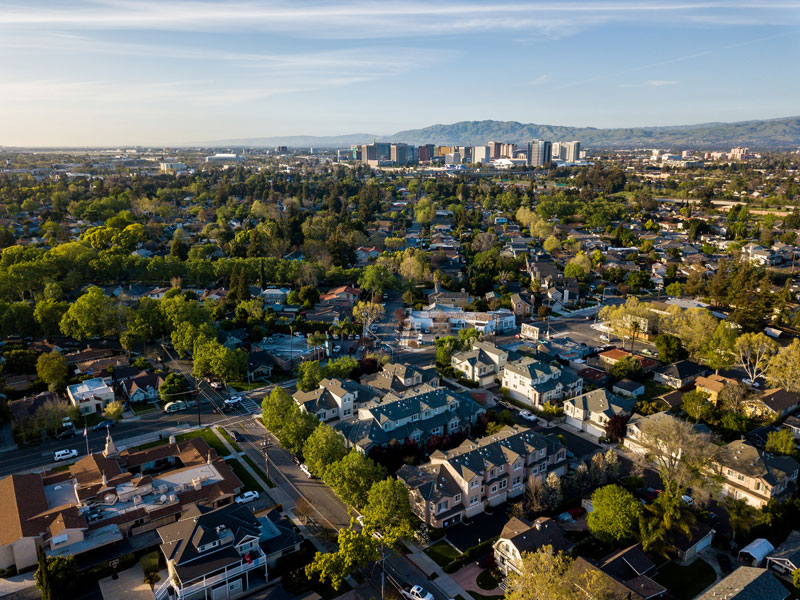 Located on the west side of San Jose, Cambrian Park is a census-designated place (CDP) currently home to over 3,200 residents. The neighborhood is known for its relaxed, small-town atmosphere, and terrific location— communities like Campbell and Los Gatos, together with a wealth of amenities and attractions, are close by.
Although Cambrian Park is a small neighborhood, it holds tremendous appeal for those looking forward to living in the Bay Area. The neighborhood's prime location combines seamlessly with its excellent schools and laid-back, family-friendly environment, offering the best of both worlds for residents.
Cambrian Park's history at a glance
Cambrian Park is a smaller section located within the larger Cambrian community, which is incorporated into San Jose. Cambrian Park, however, is not officially part of the city, although there were several efforts to do so during the 1960s.
The name "Cambrian Park" was used frequently by newspaper publications San Jose News and San Jose Mercury, referring to a section within the Union and Cambrian school areas.
The unofficial borders that made up the neighborhood remained until the events of World War II. A steadily increasing population and a demand for more municipal services paved the way for more established, official boundaries after the war.
Today, the Cambrian Park neighborhood is recognized as a distinct, partially unincorporated community.
One of the most desirable places to live in the Bay Area
Living in Cambrian Park, San Jose comes with an array of benefits, making it one of the best choices for anyone looking for a home in the Bay Area. Often overlooked compared to other more popular communities in Silicon Valley, Cambrian Park nonetheless has all of the elements that allow for an exceptional quality of life.
On this page, we'll take a closer look at the many reasons that make Cambrian Park a special place to live.
Prime location

Cambrian Park is highly accessible. Downtown Jose's employment hub is about a 20-minute drive from the neighborhood. Cupertino or Sunnyvale up north are both easily accessible as well since Cambrian Park is minutes away from Highway 85.

Cambrian Park residents also get quick access to all of the amenities and attractions in Los Gatos, along with other destinations like the Westfield Oakridge Mall, Mineta San Jose International Airport, and sought-after communities such as Campbell, Saratoga, Willow Glen, and Almaden Valley, Blossom Valley.

Cambrian Park's incredible dining scene

Whether you're planning a get-together for brunch, looking for a place to catch the big game, celebrating a special occasion, or just want to enjoy a quick bite, Cambrian Park's top-rated dining destinations are guaranteed to delight the taste buds of even the most discerning food critics.

Cozy cafes, eclectic bistros, sophisticated fine dining restaurants, and more, all serving an array of delicious cuisine can be found in and around Cambrian Park, offering an unforgettable dining experience.

Here's a quick glimpse at some of the incredible restaurants you can find around the area:

Blue Rock BBQ
3001 Meridian Avenue, San Jose, CA
408.978.2383

If you're craving delicious, juicy barbecue, you can't go wrong with Blue Rock.

With a diverse menu reflecting the owners' southern roots, Blue Rock treats diners to a delicious array of classic Southern comfort cuisine including Memphis-style baby back ribs, East Tennessee pulled pork, mac and cheese, and baked beans.

Blue Rock BBQ stays true to their motto – "Barbecue Without Borders" – a reflection of their belief that the best barbecue techniques and traditions are not limited to the South. Through this philosophy, they complement their barbecue with flavors and influences from different regions, celebrating the way barbecue brings people together to enjoy good food and good company.



Bill's Cafe
1401 Kooser Rd, San Jose, CA 95118
408.264.1900

A San Jose staple since 1977, Bill's Cafe has delighted countless diners with their delicious breakfast and lunch dishes for over three decades.

As one of the top breakfast spots in the area, Bill's Cafe is highlighted by an extensive breakfast menu consisting of traditional breakfast fare made from fresh, high-quality ingredients, together with a wide range of creative specialties.

Breakfast is served all day at the cafe and can be enjoyed alongside their lunch menu which includes salads, classic sandwiches, and daily chef's specials.

Bill's Cafe features seven different locations in San Jose, as well as nearby communities such as Pleasanton, Palo Alto, and Fremont. Their Kooser Road location serves the neighborhood of Cambrian Park.



La Pesca Blue
15529 Union Ave., Los Gatos. CA
408.963.6111

La Pesca Blue is the place to be if you're looking for fresh, healthy, and delicious seafood. This hidden gem in Los Gatos serves an extensive menu of flavorful seafood dishes including an assortment of fish and chips dishes served with coleslaw and different sauces, seafood pastas, poke bowls, and a variety of fish entrees.

These are just a few of the many excellent restaurants you can find in and around Cambrian Park!

The picturesque outdoor destinations

Nature lovers and outdoor enthusiasts of all ages will feel right at home in Cambrian Park. The neighborhood's prime location opens up a diverse array of picturesque outdoor destinations.

Locals are always minutes away from scenic hiking trails, expansive parks, and family-friendly recreational venues, offering plenty of opportunities to relax, soak in the views, and spend quality time outdoors.

Butcher Park along Camden Avenue is the perfect place to go if you're looking for an ideal place to visit alongside your loyal canine companion. The park features paved trails, plenty of open space, and a fenced-off area with separate enclosures for small and large breeds.

One of the top outdoor destinations minutes away from Cambrian Park is St. Joseph's Hill Open Space Preserve. Nestled on a hill from which it is named for, this expanse protects over 270 acres of open space. The preserve is a well-known hiking and dog walking destination, with several trails for biking and horseback riding. Visitors can access the preserve from the south via Lexington Reservoir County or from the north through Novitiate Park in Los Gatos.

Another terrific destination nearby is Vasona Lake County Park. The park features over 45 acres of open space for a variety of sports and recreational activities. Several picnic areas are also available throughout the park. Vasona Lake is popular among anglers; its waters are stocked with crappie, black bass, bluegill, and catfish. Boats and paddle boats are available for rent from early spring through fall.

Unique historical attractions

Cambrian Park is home to an array of fascinating historical venues. Take a step back in time and drop by some of these interesting locations around the neighborhood:

Cambrian Park Plaza

Built in 1950s, Cambrian Park Plaza is the neighborhood's main retail and business district. As the heart of Cambrian Park, this vibrant location is home to a mix of specialty stores, local boutiques, and dining venues.

The plaza is where you'll find the Cambrian Park Plaza Carousel sign, the neighborhood's most famous landmark. The colorful sign was erected in 1953 and was recently granted historical status in 2016.

The city of San Jose has plans to develop Cambrian Park Plaza into a mixed-use urban village consisting of townhomes and high-end shopping centers. So try to visit the plaza as soon as you can before redevelopment takes place! The good news, however, is that the city has approved plans to preserve the plaza's iconic carousel sign as a nod to the past.

St. Frances Cabrini Parish

Among Cambrian Park's most iconic historical buildings is the St. Frances Cabrini Parish. Prominent features include its elegant edifice towers made from white stucco, making the historic church stand out in a neighborhood with mostly single-story structures.

The parish is a favorite subject for many professional photographers, especially during the evening when the brilliant colors of the sunset create a stark contrast against the white bell tower. Ever since it was built in 1963, the St. Frances Cabrini Parish has been an integral part of Cambrian Park's skyline, as well as the community itself.

Top-quality education

Families living in Cambrian Park, San Jose get access to several excellent schools under the Cambrian School District, which serves nearly 3,000 students in the community in grades K-8.

Schools in Cambrian Park are recognized for their outstanding arts and physical education programs. Anchored by a strategic, forward-looking plan, schools within the district are some of the highest-ranked in the region. Through several grants, Cambrian School District has been recognized for its innovation in curriculum development focused on mathematics and science.

Cambrian School District manages the following:

Five of these schools have already been recognized as California Distinguished Schools, with Bagby and Farnham Elementary receiving the designation twice. Steindorf STEAM Magnet School is the newest school in the area; it served its first batch of students during the 2016-2017 school year.

Another exceptional public school serving Cambrian Park is Carlton Avenue School, which is under San Jose's Union School District. As the district's #1 elementary school, Carlton Avenue School is focused on providing quality education and a highly encouraging and nurturing learning environment for all students.

For those looking to enroll in higher education, Cambrian Park is located close to several outstanding colleges and universities such as:



Scenic, family-friendly neighborhood

Those searching for the ideal place to live in Cambrian Park, San Jose will be able to choose from a variety of quality neighborhoods, each with its own unique charm and appeal.

If you want to wake up to stunning views each day, the Vista Loop area near the boundaries of the neighborhood offers some of the best vistas of Silicon Valley and the surrounding hillsides. Many of the neighborhoods in Cambrian Park also feature beautiful tree-lined streets, which lend a picturesque quality that enhances everyday living.

Those in search of a secluded location with a relaxed country feel will be able to find homes with large lots surrounded by mature trees in areas like Warwick and Heather Drive. Sections like Charmeran, Chelsea, Herring, and Stratford Drive feature homes on expansive parcels of land as well, giving homebuyers more options to choose from.
Overview of Cambrian Park's real estate market
Living in Cambrian Park, San Jose means access to a great selection of stylish and well-built single-family homes along serene, tree-lined streets. A limited selection of condos is available in the neighborhood as well. Condos for sale in Cambrian Park typically have 2 bedrooms and 1 bathroom, as well as 900 sq. ft. of living space.
Cambrian Park's median listing home price is currently $1.7 million, which makes the neighborhood relatively more affordable compared to other Silicon Valley communities. With its highly rated schools, convenient commuter routes, and proximity to the amenities of Los Gatos, Willow Glen, and Campbell, Cambrian Park has an enduring value that many homebuyers are looking for. This results in a consistent demand that often outpaces the supply of homes in the neighborhood. Homes near schools, in particular, can fetch around $2.4 million.
Another element that affects the sale price of homes in Cambrian Park is the zip code. In general, homes within the 95124 zip code sell for more compared to homes in 95118, although homes in the latter are fairly newer, often attracting buyers looking for a good deal.
Find the ideal home in Cambrian Park today!
Thinking about living in Cambrian Park, San Jose? Let the real estate experts from the Stephanie Martin Group help you navigate this exciting market!
Led by longtime Cambrian residents Stephanie & Zachary Martin, this dynamic mother-and-son team has assisted countless satisfied clients looking for the perfect home in the area. Over the year, the team has built a stellar reputation for providing exceptional service anchored by their unparalleled passion for the community, making them the best, most trusted REALTORSⓇ in the Cambrian Park neighborhood.
Start your search for your dream home in Cambrian Park today! Get in touch with the Stephanie Martin Group at 408.828.6880 or send an email to stephanie(dotted)martin(at)compass(dotted)com